It's boom time for pink bubbles! The thirst for Italian pink bubbles is agreeing with consumers around the world from the United States to Germany and the United Kingdom to the Far East. A confirmation of how the new proposal has conquered the palates and tastes of many and above all exceeded all expectations. Prosecco DOC Rosé has been recording staggering numbers over the past year and is literally setting the trend in the sparkling wine market, which seems not to want to stop, but is growing steadily. A future more rosé-o than ever!
 
Its elegance and floral bouquet are the characteristics that make it so appealing, but not only that. Also unmistakable is its fine and persistent perlage and its soft, round and well-structured taste. These are the particularities that make Prosecco DOC Rosé unique derived not only from the classic white grape typical of Prosecco the Glera, but also from a percentage of Pinot Noir, an international grape variety particularly suited for sparkling wine making. 
There are four types available of Prosecco DOC Rosé, only in the sparkling version: brut nature, extra brut, brut and extra dry. Refermentation takes place in autoclaves according to the Charmat method and respects a minimum duration of 60 days, after which bottling will takes place.
A successful wedding between the two blends, which sees its historic first vintage in 2020 with a production of over sixteen million bottles. Introduced into the market towards the end of one of the most complex years for the business, Prosecco DOC Rosé reached a production of more than 70 million bottles last year. An incredible number for a new product that has only recently entered the market.
An unstoppable phenomenon that is driving the whole sector of Italian rosé wines, which in part, are still searching for a real identity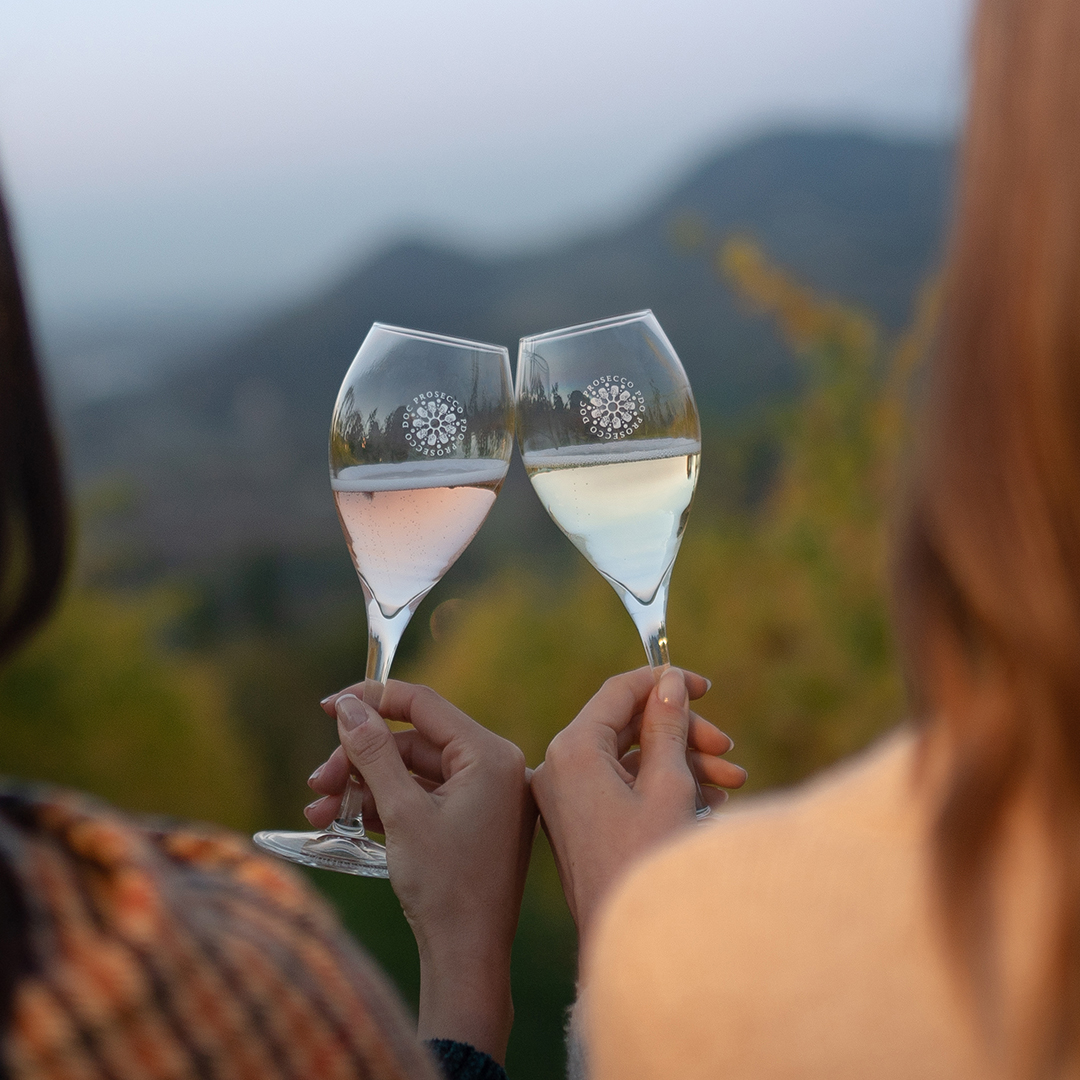 In this regard, the reason that led to the birth of this product, developed after a study conducted by the Consortium in 2018, was that it was still very confusing how consumers perceived rosé sparkling wines. This gave rise to the need for clarity. This is how the Consortium decided to standardize and regulate production, guaranteeing consumers a Rosé sparkling wine of quality and certified origin, identifying it with the production territory and making it recognizable. Article 2 of the Production Law Regulations of "Prosecco DOC" wines states: "The sparkling rosé type provides for the following composition of vine varieties: Glera minimum 85%, maximum 90%; Pinot noir vinified in red minimum 10%, maximum 15%. Said composition allows obtaining the 'rosé' coloration."
Not just a fashion then, but a true lifestyle symbol: quality and elegance, first and foremost, but also fun and conviviality are the thoughts that consumers associate with Prosecco Rosé. "If this trend continues, we can venture that soon Prosecco Rosé will guide about 90% of the entire Italian rosé production," says the Consortium for the Protection of Prosecco Rosé, which from Treviso manages more than 24 thousand hectares of vineyards, 11 thousand winemakers and 1,169 wineries capable of putting more than 600 million bottles on the market for a turnover exceeding 3 billion euros, 78 percent of which is made abroad. 
Certainly the combination of the Prosecco trend with the rosé trend has been to all intents and purposes successful, making it a young and desirable wine. The biggest lovers of the newborn wine, in fact, are precisely the millennials, because they recognize themselves in a proposal that represents them and is suitable for every occasion. A real phenomenon that has attracted the attentions of many stars and celebrities, such as pop singer Kylie Minogue. She was one of the first to want to create "her" Prosecco DOC Rosé in collaboration with the Veneto-based winery Zonin. 
An increased interest in this pink bubbly that does not seem to want to stop, proving itself more and more among an international audience, especially women, in whom it is recognized for its peculiarities and characteristics. The launch of Prosecco Rosé has also revolutionized the way Prosecco is perceived, in a positive way. The perception of higher quality and value has markedly increased, positioning this wine in the mid-to-high range. Don't call it purely a marketing move though, although it has put the world of Prosecco back under the magnifying glass of its fans and the wine world in general, benefiting the entire denomination.  
This new and expected perception of Prosecco has led to a greater appreciation of the Treviso area and its great food and wine heritage, which has reached the ears and palates of many countries around the world. 
A real paradigm shift that has allowed Prosecco to be perceived not just as a lifestyle symbol, but as a sought-after and appreciated wine, ambassador of a well-rooted tradition and spokesperson for a well-defined territory, in Italy and on the international scene.